All Star Mechanic offers you FREE advice. If you are having an automotive problem, just email me and I will respond as soon as I possibly can. In order to better serve my visitors I have put together a large variety of essential information. Please feel free to browes around and explore my website.

For quality webmaster and net surfer programs go to Maxref.com. Large variety of paid to surf, paid email, FFA links pages, FREE search submissions, and many, many more wonderful programs that you can join for FREE! Yes I said FREE! Explore the possibilities. Click Here Now!
Don't Tow & Save Your Dough !!
Are you tired of towing your car to the shop and then paying ridiculously high amounts of cash? Hi, my name is Enoe. I'm a mobile mechanic who will travel anywhere in the Phoenix, AZ metro area. I have 13 years of automotive repair experience on both domestic and imported vehicles. If you're looking for quality services and low prices, then contact All Star Mechanic as soon as possible.

FREE Estimates
To get a FREE estimate please email me year,make/model, and size of your vehicles motor. Estimates are completely FREE and will be more accurate if you provide me with all the necessary information. You will receive your estimate within 24 hours of request.




For more resources go to my Webmaster Resources page! Pick from a variety of traffic increasing, money making, and fun having programs. Go There Now!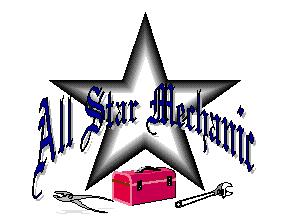 Hablo Espanol
Hola, mi nombre es Enoe Alvarez. Tengo 13 anos de experencia en autos domesticos y extranjeros. Ofresco consejos GRATIS! Presupuestos GRATIS! Si usted esta teniendo problemas con su auto, mande me un email y me communicare con usted entre 24 horas. Para recibir consejos o presupuestos, por favor incluya ano, modelo, marka, y tamanio del motor de su carro.

!! Current Special !!
Currently All Star Mechanic is offering a special discount for new customers. Receive 10% off any service priced $150.00 or more. For more information on prices and free estimates go to the Prices page.